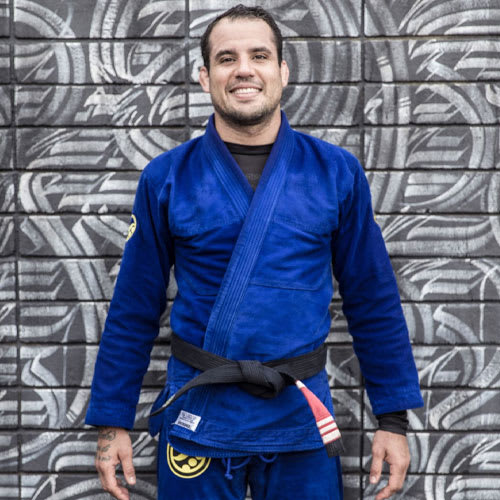 Italo Lins
Italo Lins is a professional Brazilian Jiu-Jitsu competitor in the black belt division, having been taught by Master Julio Cesar – leader and founder of the Grappling Fight Team. Lins is part of a very talented generation of fighters from the GFT camp of which Vinicius Marinho, Igor Silva, Rodolfo Vieira, and Jake Mackenzie.
Italo Lins was born on the 21st of October, 1988 in Rio de Janeiro, Brazil. Though he dwelled with "Capoeira" (another Brazilian martial art) for a few years, it was in jiu-jitsu that Italo Lins found his calling. He started training BJJ after an invitation from a few friends who already practiced the sport, he was 12 when he had his first class with master Carlos Santana, a coach who was also responsible for the introduction of multiple-time world champion Bruno Malfacine to Jiu-Jitsu.
Carlos Santana's gym was an affiliate of the Grappling Fight Team and under the teachings of Santana, Italo went through the ranks from white to brown belt. As he reached the brown level, Italo Lins decided to switch to the main GFT (Grappling Fight Team) camp where he met Master Julio Cesar Pereira, becoming one of the main competitors at the team's roster. It was Julio Cesar that awarded Italo Lins his black belt in 2010.
Lineage: Luis França > Oswaldo Fadda > Monir Salomão > Julio Cesar Pereira > Italo Lins
Main Achievements:
1st Place CBJJO World Cup (2010)
1st Place CBJJD World Champion (2016)
1st Place CBJJO Pan Championship (2012)
1st Place IBJJF Las Vegas Open (2011)
1st Place IBJJF New York Open (2011/2012)
1st Place IBJJF Dallas Open (2013)
1st Place IBJJF London Open (2018)
1st Place IBJJF London Open NoGi (2014)
1st Place IBJJF Chicago Open (2019)
1st Place IBJJF Rome Open (2015)
1st Place CBJJ Brazilian Team Nationals (2012)
1st Place AJP Abu Dhabi Grand Slam, LDN (2017)
1st Place AJP World Pro Trials (2014)
1st Place IBJJF Manilla Open (2017)
1st Place BJJFP Philippines Open (2015)
1st Place BJJFP Pan Asian Championship (2016)
1st Place NAGA Championship (2011)
1st Place Mercosul Cup (2010/2014)
1st Place IBJJF Rio Open (2010)
1st Place North-Northeast Interstate Championship (2010)
2nd Place IBJJF European Open NoGi (2015)
2nd Place IBJJF Seoul Open (2018)
3rd Place IBJJF European Open (2016)
Main Achievements (Masters):
1st Place IBJJF NOGI Pan Championship (2019)
1st Place IBJJF Masters World Championship (2020)
2nd Place IBJJF American Nationals (2020)
3rd Place AJP Grand Slam, MIA (2020)
Weight Division: Peso Pena (70kg/154lbs)
Favorite Position/Technique: Guard pass & taking the back
Team/Association: GF Team